Domarpresentation Spanielmästerskapet 2013
Domare: Mr Aidan Patterson (Freecrow Spaniels)
Before becoming involved with Spaniels he was a skilled Gaelic Football player, performing at all levels including County and winning numerous medals including club championship medal at all levels.
He bought his first spaniel in 1963 and it fired his interest in the breed.
Around 1975, after a spell of some five years working abroad, he started to train spaniels for field trials.
To date he has trained four Field Trial Champions. Field Trial Champions: Cresset Cristo, Brownlow Dancer, Toonarmy Traitor and Buchleuch Dawn by Freecrow.
He has judged the Irish Kennel Club Championship for AV Spaniels and the English Kennel Club Championships for both Springers and Cockers. As a competitor he has reached the run off stage on numerous occasions – four times at the English and twice at the Irish Kennel Club Championships. He has gained two seconds, three thirds and one forth, and was awarded a guns award on two occasions.
He has represented Ireland at the County Landowners Association in England several times and also Northern Ireland at the Northern Ireland Game Fair where he was awarded Top Spaniel for three consecutive years.
His judging appointments have taken across the UK, Eire, Scotland and Sweden where he also co-represented a seminar on spaniels and the Kennel Club Regulations.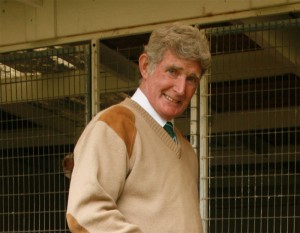 Domare: Mr William Megaughin
He bought his first Spaniel in 1987 called Cardonaghy Lass. She gained 2nd in her first Test and a COM in her first trial. That was truly why he got hocked on competing with dogs. Cardonaghy Lass went on to win a Novice and All Aged Trial and gained 30 to 40 other awards in her Career.
Willie has represented North Ireland several times at International levels competing whit spaniels. He made his Field Trial Champion Wynhill Bee up in 2002.
He is now an English Kennel Club Presenter and became A panel judge in 2004. He has judged the JSK Championship and the Irish Championship.
He's honored now to be asked to Judge the Swedish Spaniel Championship.